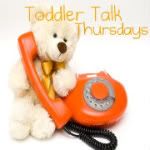 This week's topic is, Vacationing with a toddler!
Our first time vacationing with a toddler was when my son was around 1 1/2 years old. It was a 9 hour trip from FL to SC to visit my family back home. He did quite well!
This last time we went back home we had both of our kids, at the time 11 months and 4 years old, we split this trip up into 2 days because I was following my Memaw. Our 11 month old wasn't very happy about traveling but our 4 year old has always been pretty good about it. I've learned a few things since then, that I will be sure to include our next trip this year.
I saw a while back -

somewhere in blogging land

- a neat idea of having a

'travel fun kit'

. Basically, I keep a container filled with little activities/books that the kids can play with while riding in the car. Some of the things I include are, those

Crayola Wonder Color

(I think that's the name) books that the markers only color on the special paper,

small hand held games

,

small puzzles that can be put together on a lap board

, etc. We recently upgraded our vehicle and got a mini van that came equipped with a

DVD player

- thank God for that right?! I really think that will be coming in handy this years trip ;-) I'd also like to say that bringing along a pillow and blanket from home would be ideal. Both of our kids have their own blankets and 'special' pillow that will come along on long road trips. It helps make them more comfortable about being away from home!
Another important thing, every time we stop to eat, we make sure to stop somewhere we can go in and eat so we can all stretch our legs. I'd also recommend stopping at rest areas to stretch little legs!
Since this is my first time participating I'm not sure if this topic has been covered but, I'd like to see more ideas of fun activities to do with toddlers over the Summer. One thing we've been doing, story time at our local Library!